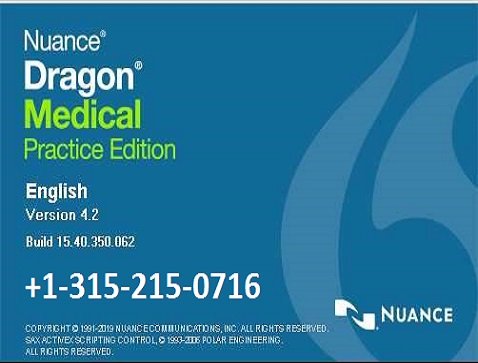 In the era of Covid19, medical practitioners and healthcare organizations are advising people to keep fewer contacts with others to stop the spread of this pandemic. In such a situation, medical professionals are also avoiding the contacts with their patients as much as possible. Even all medical services are going paperless.
Speech recognition software like Dragon comes as blessing that enables people to get their task done without needing to touch the devices.
The clinicians can use their voice to navigate, dictate and edit the text inside EHR.
As the clinicians get to boost their work efficiency, they can see more patients and earn more money, by using this software.
Top Features of Dragon Medical Software
You can easily dictate medical words as the Dragon Medical Speech Recognition software has got the vocabularies for over 90 medical specialty and subspecialties.
With its advance adaption feature, it ensures the high accuracy in speech recognition and thus can adapt your regional accent easily.
It simplifies your experience with EHRs.
Dragon has got smart library and smart configuration that can ease up your work without even requiring an internet connection.
It has a locally installed speech recognition features which ensure the hassle-free access and interaction.
The Recognition analytics in Dragon Medical Practice Edition automatically detects poor audio inputs and immediately alerts the user about the same.
More features and capabilities
| | |
| --- | --- |
| Features | Capabilities |
| Medical vocabulary, specialty language models and accent support | Yes |
| Medical formatting rules | Yes |
| Medical command sets and search commands | Yes |
| Compatible with leading EHRs | Yes |
| HIPAA-supportive by employing secure encryption methods throughout the workflow | Yes |
| Hidden Dictation Box | Yes |
| Compatible with PowerMic™ III | Yes |
Dragon Medical Practice Edition Features & Specifications
Check out the list all the required specifications for your system, before you buy Dragon Medical Practice Edition 4.
| | |
| --- | --- |
| RAM | 4 GB (Minimum) |
| CPU | Intel Dual Core or equivalent AMD processor. |
| Free Hard Disk Space | 4 GB |
| Operating System | Microsoft Windows versions – 7, 8.1 and 10 (32-bit and 64-bit) |
| Windows Server | Windows 2008 R2 and Windows 2012 R2 |
| Browser | Microsoft Internet Explorer 11 or all latest versions and Chrome |
| DVD-ROM Drive | Required for Installation |
| Internet Connection | Required If Download It Digitally |
Do you want to know more about Dragon Medical Practice Edition 4? Call us on toll-free number +1-310-513-5006 to get instant support on phone today itself.